I wrote this article for the Sackville Farmers' Market. It was published in the Sackville Tribune Post. Photographs are courtesy Rose Leonard.
It's Saturday morning and the lure of fresh has hooked you into strolling up Bridge Street block to the Sackville Farmers' Market. Fresh baking, fresh flowers, fresh veggies and even fresh ideas await your pleasure in a year-round pedestrian market where local farmers and producers rub elbows with talented artisans and musicians. Here at the Sackville Farmers' Market you'll find the best the area has to offer, year-round, every Saturday morning from 9 am to noon.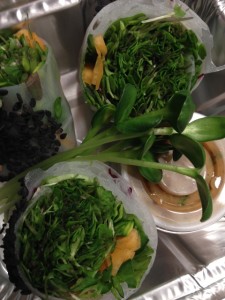 It's a beautiful sight. Bundles of fresh herbs, tables of fresh produce, an impressive selection of locally raised fresh meat, and not a shopping cart in sight. Families with children are welcome – it's a learning experience for them too. You can chat with vendors who have grown their vegetables from seedlings and harvested them that morning – perhaps get tips on how to prepare, process or preserve your purchases.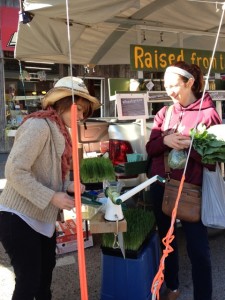 It's not as though this is a new idea. The Sackville Farmers' Market is one of the longest-running farmers' markets in New Brunswick, attracting a steadily growing clientele who want to reconnect with their food and their neighbours in the ambiance of a local market. With free parking just a short walk away, there's every reason to hop out of bed on Saturday morning and enjoy a coffee at the market café downtown.
The Rewards of Going Local
It's easy to see why farmers' markets are making a comeback. From Britain's "Your Countryside Needs You" campaign launched in 2010 to Canada's buy-local initiatives dating back to the 1970s, shoppers across North America and Europe are buying in to buying local.
In Sackville and beyond, people want a more satisfying shopping experience. They want healthier food but they also want to shop responsibly – less packaging, more recycling and fewer greenhouse gas emissions from transporting products. Above all, they want to support local farmers and businesses.
According to a Business Development Bank of Canada survey conducted in 2013, 72 per cent of Atlantic Canadians said they make it a point to buy locally made products. A whopping 97 per cent said they did so to help the local economy and 96 per cent did it for a local farmer.
A national study conducted on behalf of the National Farmers' Market and Agriculture and Agri-Food Canada released in 20009 reported that 92% of shoppers said that buying directly from a farmer is important to them.
That landmark study further stated that the impact of famers' markets on the Canadian economy was reported to be over $3 billion. Markets stimulate the economy in a variety of ways:
Job creation: 55 per cent of vendors surveyed said that their participation in farmers' markets had led to the creation of 1-5 jobs.
New business growth: The low overhead and easy entry appeals to entrepreneurs young and old. A number of these people will go on to create store-front businesses of their own.
Generating incomes: Markets are important sources of farm income and play a key role in the marketing of Canadian agricultural products. They also help vendors connect with customers and increase their business beyond the market.
Sackville Part of a Growing Trend
Sackville's recent experience reflects the trend towards buying local. According to a 2014 survey, an average of 726 people visit the Market during the months of May, June and July; 60 per cent attend on a weekly basis. The study found that 50 per cent of shoppers spend between $11 and $40 each week. That equates to average gross spending of $11,073 during peak months.
The Market helps bring people to the downtown on Saturday morning, bringing in an average of $7,326.32 during peak season.
Unlike many local markets, the Sackville Farmers' Market operates year-round, attracting 57 per cent of the shoppers through the winter as well as the summer months. In winter ¬ –October to April – vendors move from Bridge Street block to the Bridge Street Café (indoors) and in front of the Cranewood Bakery (outdoors), which is around the corner from Bridge on Main Street. There are no outdoor tables on Bridge Street during winter.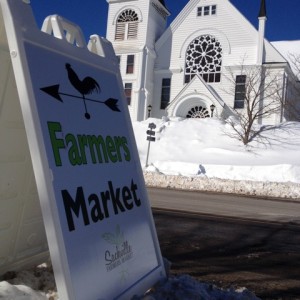 After 37 years the Sackville Farmers' Market has undergone a rebirth of its own. In 2012, the Sackville Farmers' Market Inc. was formed – a non-profit organization to "promote and create local food systems and locally produced items in order to build community through the operation of a non-profit, co-operatively managed farmers' market in Sackville, New Brunswick." The Town's community development agency, Renaissance Sackville, has provided funding for marketing and administrative support as the Market reaches out to loyal customers and a wider clientele.
The Future's Markets
Considering the economic, health and lifestyle benefits, many people believe it makes sense to support their local market. They gain pleasure and pride from shopping locally, and use their shopping decision to make a difference in local economies.
If this renewed interest in farming, and commitment to buying local continues, consumers will create a rural renaissance in Sackville and beyond. By investing in home-grown products, they will help preserve unique skills in their rural communities and ensure that farmers and small rural businesses thrive.
How to Market
If you're new to the Market, or if you simply want to get more enjoyment from Sackville's Saturday morning hotspot and hangout, read on:
Arrive early: The market runs from 9 until noon and there'll be lots left, but the best and freshest goods get scooped up first. It's worth it to get there before the crowds, even though they're friendly and line-ups go quickly. Jump out of bed, don't worry about how you look – you'll see everything from sweats and dreads to high heels and hairnets. You can even skip breakfast and dine el fresco along Bridge Street. Plan your purchases (or check your messages) while you chow down.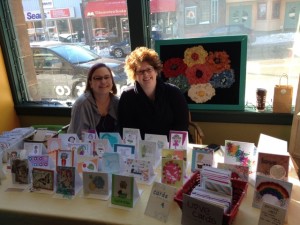 Come prepared: Tuck a couple of glass or Tupperware containers in your backpack or purse. They're perfect for berries, herbs and other perishables. Reusable bag. Check. But if you forget it, don't worry – you won't get dirty looks from vendors. In fact, they'll smile and hand you a bag; they'll even pack it for you. It's all part of their friendly service. They genuinely enjoying helping and getting to know their customers.
Bring change: This isn't a necessity but it can simplify your shopping. Small bills and change come in handy. Some of the vendors have debit machines but if they don't, the banks on Bridge have ATMs and Saturday morning hours.
Celebrate local: Bring your family (including pets) and friends! Your out-of-town visitors will be impressed by the area's wealth of talent and unique crafts – from pottery and textiles to woodworking and sculpture. Go ahead, brag a little.
Feast on fresh: Enjoy an array of gourmet and ethnic ready-to-eat foods while you shop. Choose from Japanese, Indian and Korean dishes; sausages hot off the grill; salads and breads and more. Find a bench or dine in the park – it's just around the corner.
Sample the wares: Vendors often test new products. Go for it! You may come away with new ideas for recipes of your own while helping to promote new products and businesses.