I didn't know it, but I spent December reading books about happiness. Well, I knew I was reading. But I thought I was reading about how to do no harm, how to surrender to uncertainty, to be kinder and more compassionate. Which, as I discovered, leads to happiness. Not a happiness as in it's going to be a great day (although that's a lovely feeling). But happiness as in embracing the world as it is and knowing that nothing need knock you off balance, or turn your great day into a shitty one.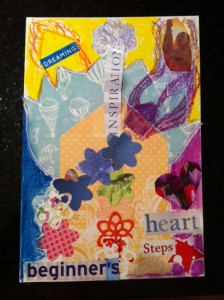 I wrote a Review of my 'happiness' books for the Telegraph Journal. Then I noticed how the poem Beginner's steps I wrote about a collage I did is essentially talking about the same things. So I attached those, too. The collage was done with Coleen Davidson and Sherry Smith at the Hatha Yoga Room in celebration of the Winter Solstice. The proceeds went to Autmun House.
As Pema Chodron says in Living Beautifully, we are all needed. Perhaps this is the year to spread yourself around – your joy, your wisdom, your happiness. We all need it.
So happy you're reading me. Thanks!